Auto responding to your email
If you are away you may wish to set the mail server to automatically reply to any emails received in order to inform people that you are away. An auto-response can be setup from the mailbox manager. To configure this you need to login to the mailbox manager web service. You can access the mailbox manager web interface at http://mailboxes.mtheory.co.uk or securely at https://mailboxes.mtheory.co.uk.
Note if you login securely you will get a warning that "the identity of this website has not been verified," or "server's certificate does not match the URL," or "server's certificate is not trusted," in your web browser. This is because the mailbox configuration service is hosted by our ISP, Dreamhost, and the certificate is issued by them rather than us. Your browser will normally let you view the certificate. If you click on this your browser will give you the option to always trust this certificate or install this certificate. Either of these should resolve this problem for you.
Once you login you will see a screen similar to that shown below. You can configure quite a lot of things from the mailbox manager interface. Many of these features are pretty self-explanatory but more details can be found in this post.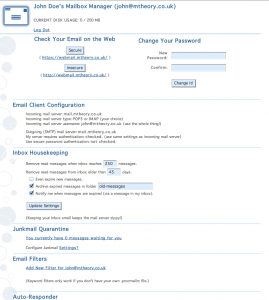 The Auto-Responder configuration can be found at the bottom of the mailbox manager interface. The options available are shown in the screen shot below.
Under the menu
Auto-Responder
you can configure everything about the auto-responder. At the top there is a tick box to activate the auto responder. Below this there are the 
From
,
Subject
and
Body
 fields that you would expect in any email. These three fields let you configure your generic automatic email response. To the right of the
Subject
field there is a tick box to
Quote Subject,
 if ticked this simply replies to the email with the subject field used by the sender rather than one defined by you. If you are using this you should leave your
Subject
 field blank. Below the
Body
 field is a tick box which needs checked if your email body contains
HTML
. This ensures the email gets sent as a HTML email rather than a plain text one.
Finally at the bottom you have the option to set the date and time you want the auto-responder to start and stop. Note the format is years-months-days hours:minutes:seconds. Also the time zone is
Pacific Time
(i.e.
GMT
-8 hours during the winter) which you may need to take account of. Once you've configured your auto-responder click the
Update Auto-Responder
button to save the changes. As noted on the mailbox manager it can take up to 1 hour for the changes to go live, i.e. for the mail server to start or stop automatically replying to your emails.